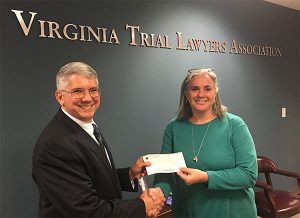 With estimates of 30 percent of attorneys dealing with depression and anxiety, 20 percent likely overusing alcohol and only a tiny percentage of those seeking assistance in Virginia, VTLA's annual contribution might seem like a drop in the bucket. Instead, our annual donation has a major impact on the lives of lawyers in our midst.
The fact is, "we could not exist without VTLA," says Tim Carroll, Executive Director of Lawyers Helping Lawyers.
This fiercely confidential program assists legal professionals and their families who face  challenges with alcohol or drug abuse, gambling, anxiety or depression. LHL is an independent, non-disciplinary 501(c)3 that will assist and identify treatment and issues around such treatment.
VTLA includes a significant donation in each year's budget to support this vital program. This year, LHL is making significant steps toward quantifying needs, results and opportunities – data that will direct the program's future.
Need help? Know someone who needs help? Call the 24-hour help line, 877-545-4682 or send a confidential email through the website, www.valhl.org.
Willing to help? Join VTLA and financially support LHL with a tax deductible contribution – it's easy! www.valhl.org/donate